projects done by btech students
Automatic 3D Sprinting Machine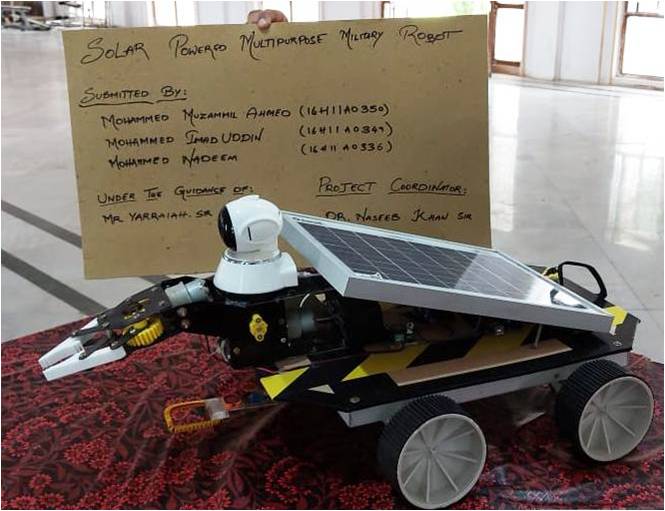 Solar Multipurpose Military Robot
Auto Disinfectant Spray Drone
Plastic Shedder Machine
Emergency Braking System
Multi-Purpose Electromagnetic Crane
Solar Powered Power Generation and Storage
Hand Gesture Wheel Chair
Two-Wheeled Motorized SEGWAY
Solar Powered Bike
Anti Covid19 Large Area Sanitising Machine
Multipurpose Surveillance Drone
Automatic 3D Printer
Solar Powered Grass Cutter
Shadan College of Engineering & Technology has established the Exclusive Research and Centre (RC) in the year 1998 for Research and development in multidisciplinary Engineering and Sciences with the following objectives:
To provide strategic support for research across the institute for acquisition of new knowledge.
To create specialized product development and testing laboratories with leading edge technologies.
To work skillfully on the leading edge technologies to conceive and develop innovative products and services those are beneficial for Society.
To facilitate consultation & testing services utilizing the intellectual capabilities of the faculty and existing physical infrastructure.
To provide exposure and participation to faculty & students to the research activities in the institute enabling them to teach & learn from a higher platform.
To enhance the research activities and cultivate a pleasant research atmosphere a state of the art building with all modern technical facilities is established. It accommodates all the ten main departments to carry out the advanced research. All the research activities are being streamlined to make a mark in 'Make in India' concept of Indian Government. Independent space is provided to each department to encourage both individual and collaborative research for the execution of both sponsored/consultancy projects. In addition, individual departments are encouraged to setup 'Centres of Excellence'.
Key Research Areas :                                                 
Solar Multipurpose Military Robot ,  Auto Disinfectant Spray Drone, Plastic Shedder Machine, Emergency Braking System, Multi-Purpose Electromagnetic Crane, Solar Powered Power Generation and Storage, Hand Gesture Wheel Chair, Two-Wheeled Motorized SEGWAY, Automatic 3D Sprinting Machine, Anti Covid19 Large Area Sanitising Machine, Solar Powered Bike, Multipurpose Surveillance Drone, Automatic 3D Printer, Solar Powered Grass Cutter, Mechanical Engineering Project, Solar Powered Bike